day 29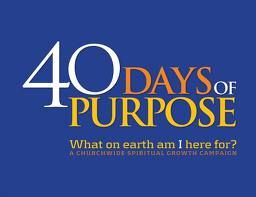 "It is God himself who has made us what we are and given us new lives from Christ Jesus; and long ages ago he planned that we should spend these lives in helping others." Ephesians 2:10 (LB)
You weren't created just to consume resources–to eat, breathe, and take up space–but to make a contribution.
God designed you to make a difference with your life, to add to life on earth, not just take from it. God wants you to give something back. This is God's fourth purpose for your life, and it is called "ministry," or service.
God created you to serve Him
The Bible says, "Tod has created us for a life of good deeds, which he has already prepared for us to do." Ephesians 2:10b (NEV)
These good deeds are you service. Whenever you serve others in any way, you are actually serving God and fulfilling one of your purposes.
God saved you to serve Him
The Bible says, "It is he who saved us and choose us for his holy work, not because we deserved it but because that was his plan." 2 Timothy 1:9 (LB)
God redeemed you so you could do his holy work. In God's kingdom, you have a place, a purpose, a role, and a function to fulfill, giving your life great significance and value.
God called you to serve Him
Growing up, you may have thought that being "called" by God was something only missionaries, pastors, nuns, and other "full-time" church workers experienced, but the Bible says every Christian is called to service.
The Bible says, "He saved us and called us to be his own people, not because of what we have done, but because of his own purpose." 2 Timothy 1:9 (TEV)
Anytime you are use your God given abilities to help others, you are fulfilling you calling.
God commanded you to serve Him
Jesus made no mistake when he said, "Your attitude must be like my own, for I, the Messiah, did not come to be served, but to serve and to give my life." Matthew 20:28 (LB)
For Christian, service is not optional, something to be tacked onto our schedules if we can spare the time. It is the heart of the Christian life. Jesus came "to serve" and "to give," and those to verbs should define your life on earth too.
If you're not involved in any service or ministry, what excuse have you been using?
God has used a variety of people, and he will use you, too, if you stop making excuses.
Book: The Purpose Driven Life by Rick Warren