day 40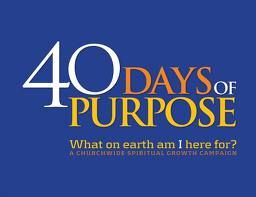 "Many are the plans in a man's heart, but it is the Lord's purpose that prevails." Proverbs 19:21 (NIV)
Living on purpose is the only way to really live. Everything else is just existing.
Most people struggle with three basic issues in life.
Identity- Who am I?
Importance – Do I matter?
Impact – What is my place in life?
In the Upper Room, as Jesus was concluding his last day of ministry with his disciples, he washed their feet as an example and said,
"Now that you know these things, you will be blessed if you do them." John 13:17 (NIV)
Once you know what God wants you to do, the blessing comes in actually doing it. As we come to the end of our forth-day journey together, now that you know God's purposes for your life, you will be blessed IF you do them!
This probably means you will have to stop doing other things you normally do. There are many "good" things you do with your life, but God's purposes are the five essentials you must do.
God wants to use you. In Acts 13:36a, is a statement by God which says,
"David served God's purpose in his generation." Act 13:36a
If you think about this for a moment, you will understand why God called David,
"a man after my own heart." Acts 13:22
David dedicated his life to fulfilling God's purposes on earth. But imagine having that very same statement chiseled on your tombstone,
"(put your name here) served God's purpose in his/her generation.
This phrase is the ultimate definition of a life well lived, and God is still looking for people to use. Who is willing to do the work. In order to have their tombstone chiseled with these very words. The Bible says,
"The eyes of the Lord search the whole earth in order to strengthen those whose hearts are fully committed to him." 2 Chronicles 16:9 (NLT)
Will you be a person God can use for his purposes?
Will you serve God's purpose in your generation?
One day history will come to a close, but eternity will go on forever.
William Carey said, "The future is as bright as the promises of God."
When fulfilling your purposes seems tough, don't give in to discouragement. Remember your reward, which will last forever. The Bible says,
"For our light and momentary troubles are achieving for us an eternal glory that far outweighs them all." 2 Corinthians 4:17 (NIV)
Just imagine what it is going to be like one day, with all of us standing before the throne of God presenting our lives in deep gratitude and praise to Christ. Together we will say,
"Worthy, Oh Master! Yes, our God! Take the glory! the honor! the power! You created it all; It was created because you wanted it! Revelations 4:11 (Msg)
We will praise him for his plan and live for his purposes forever!
Book: The Purpose Driven Life by Rick Warren