day 22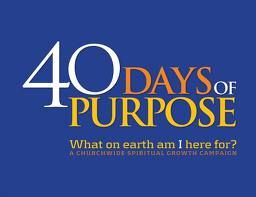 "God knew what he was doing from the very beginning. He decided from the outset to shape the lives of those who love him along the same lines as the life of his Son…We see the original and intended shape of our lives there in him." Romans 8:29 (Msg)
From the very beginning, you were created to become like Christ.
God's plan has been to make you like his Son, Jesus. This is your destiny and the third purpose of your life. God announced this intention at creation,
"Then God said, Let us make human beings in our image and likeness."Genesis 1:26 (NCV)
The Bible says that all people, not just believers, posses part of the image of God, but the image is incomplete and has been damaged and distorted by sin. So God sent Jesus on a mission to restore the full image that we have lost.
What does the full "image and likeness" of God look like?
It looks like Jesus Christ! Here's what the Bible says Jesus is,
"the exact likeness of God," "the visible image of the invisible God," "and the exact representation of his being." 2 Corinthians 4:4 (NLT); Collossians 1:15 (NLT); Hebrews 1:3 (NIV)
Let me be absolutely clear: You will never become God, or even a god. This prideful lie is Satan's oldest temptations. This desire to be a god shows up every time we try to control our circumstances, our future, and people around us. But as creatures, we will never be the Creator, period.
Jesus did not die on the cross just so we could live comfortable, well-adjusted lives. his purpose if far deeper. He wants to make us like himself before he takes us to heaven. This our greatest privilege, our immediate responsibility, and our ultimate destiny.
If what area of your life do you need to ask for the Spirit's power to be like Christ today?
Book: The Purpose Driven Life by Rick Warren