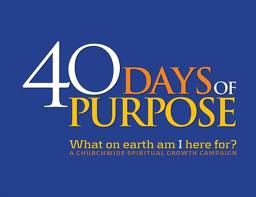 Hello Readers,
I have been thinking, What Is My Purpose? And if God has blessed you to wake up another day, I'm sure you have thought the same thing more than once or twice in your life. Well, here's what I want to do for the next 40 Day's.
I have been reading a book, I'm not going to tell you the name until tomorrow, that challenges you to commit to building your relationship with God over the next 40 Day's.
So, for the next 40 Day's, what I am going to do is summarize each chapter into my own words; however, if you would rather get the book, which I encourage you to do, I will give it to you tomorrow. 😀
But I have often thought to myself,
What am I here for?
What is my purpose?
Why did God create me?
How can I leave something on earth when it is my time to die?
And these are just a few of the questions that have come across my mind throughout my life.
The average person lives for about 70 years, or 25,550 days, since we're working with day's. Do you think it would be wise to spend 40 Day's building a closer relationship with God? Would you spend 40 Day's with God if you could get the answer to some of the questions above?
But here's a tip for you.
In God's word, the Bible. God gives us a few instances where we can see that God consider 40 Day's to be very important when developing a person's spirituality.
Noah's life was transformed by 40 days of rain.
Moses was transformed by 40 days of Mount Sinai.
The spies were transformed by 40 days in the Promised Land.
David was transformed by Goliath's 40 day challenge.
Elijah was transformed when God gave him 40 days of strength from a single meal
The entire city of Nineveh was transformed when God gave the people 40 days to change.
Jesus was empowered by 40 days in the wilderness.
The disciples were transformed by 30 days with Jesus after hies resurrection.
And lets add one more,
The next 40 days will transform your life.
So, for the next 40 days, I want to challenge you to hold fast to the 40 Day Spiritual Journey, and build a better relationship between you and God. Your life is worth it, don't you think.
'Til the next episode, peace!
Durwin